Efficiency through information and mobility

Combining worker productivity and efficiency information with quality control data paints a complete picture of the operational effectiveness of the warehouse while exposing the best opportunities for improving performance.
Time motion studies – efficiency by the numbers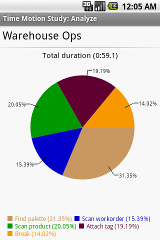 Using Graphite technology, Office Depot warehouse operations apply time motion studies to measure the performance of workers and identify opportunities for performance improvement. Time and motion study is a business efficiency technique which seeks to measure the human factors impacting operational performance.
The Industrial Engineering Terminology Standard defines time study as "a work measurement technique consisting of careful time measurement of the task with a time measuring instrument, adjusted for any observed variance from normal effort or pace and to allow adequate time for such items as foreign elements, unavoidable or machine delays, rest to overcome fatigue, and personal needs."
A study starts by defining the steps, or "motions," making up a process or task the worker is to complete, being careful to include every relevant motion or action. Next, an observer records the precise time taken for each step. After the data is collected, the results can be analyzed to identify the best opportunities for improvement or to compare different workflows for the optimal process.
Warehouse quality control – empowered by data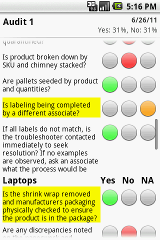 Quality control in any large-scale industrial operation is a constant concern, generating enormous amounts of input data to be scrutinized for the best actions to take to improve results.
Using Graphite technology, Office Depot's warehouse operation deployed Android-based tablet devices to quality assurance technicians for auditing and reviewing a set of quality control checklists in their warehouses.
This data is electronically combined into databases for validation and analysis. The electronic collection of data provides more timely and accurate access to the quality control data and dramatically streamlines the process of reviewing the results of audits.