How to best learn? Do.
When we're not building innovative mobile solutions for our customers, we publish our own apps to online marketplaces. Just a few examples are described here.
Time Motion Study
Time-motion study tool with measurement, result analysis graphs, and export tools.
Time-motion studies are an efficiency technique where the specific steps making up a task are measured individually, to help identify where the most time is being spent and the best opportunities to improve productivity. Motions may be as fine-grained as individual hand movements (lift tool, move tool to desk, lift work piece) or complete tasks (assemble unit, place in container, wrap for shipping) depending on the goals of your study.
Features:
Share graphs via email, facebook and more or export CSV files to load into Excel or reporting tools
Define multiple studies with different motion lists
Create as many tasks/motions as you like in each study
Easy single tap to switch between different motions during measurement
Toggle between measuring one motion at a time, or multiple concurrent motions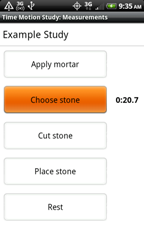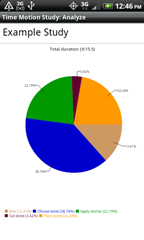 Markup
Mark up your photos with comments and drawings then share the result via email, facebook and more. Quick and easy touch based drawing and text on top of your photos.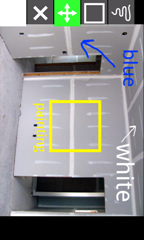 Greenscreen
Turn your android into a greenscreen studio (aka chroma-key effect)
Use any solid colored background (doesn't have to be green), snap a photo and this will remove the screen color and replace it with a cool background.
Includes over 50 backgrounds including beautiful landscapes, textures and fun shapes. You can also select any image on your phone to use as a background
Built in eyedropper to click on part of the photo to set the background to any color (in case you don't have your own greenscreen…)
Use the menu button to save the finished image or share to email/facebook/etc
Best results will be achieved with even colored background and lighting
Use the threshold button (in the menu) to adjust how much of the background is removed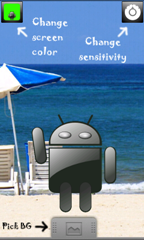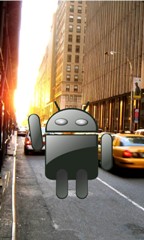 Easy-prompter
Easy teleprompter script scrolling app with optional reflection for use with mirrors and a high contrast invert mode for automatically converting black-on-white content to white-on-black.
Any web page can be used as your teleprompter script including images/etc. Images will be reversed along with text in mirror mode.
Click the play button at the bottom to start the scroll, then tap anywhere on the screen to stop it.
Easily adjust the scroll rate, re-load new scripts or toggle on/off the mirror and invert modes using the menu.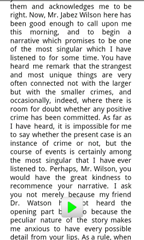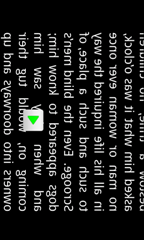 LiveBattery
A simple, uncluttered full screen battery level live wallpaper.